Artiste français contemporain, David Cintract refuse tout carcan ou étiquette.
David Cintract has lived and worked in Paris since 1988.
Painter, plastic artist, sculptor and photographer all rolled into one, he created the Pop Libre movement, which is in fact more a state of mind than an artistic movement in the normal sense of the word. David Cintract is fascinated with exuberant sculpture and with briging works together in a kind of Ali Baba's Cave.
LAST NEWS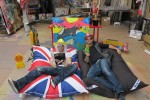 "My art reigns inside me but it doesn't rule me."
David Cintract, a DJ flipping and spinning images and materials, defines himself as a visual and tactile existential artist. A multi-sensorial creator, he moves with disconcerting ease between traditional painting techniques and modern technologies such as digigraphy […]